Dailin
Race: Elf (Aerenal)
Class: Druid
Nickname: Ma'am
Country/Region of Origin:
Profession: Goddess of Lightning
---
Background
Dailin is a gatekeeper, dedicated to hunting down and destroying abberations, along with their fiendish masters. And when she is not adventuring, she is making cookies. Eeeeeeeeeeeevil cookies.
---
Appearance
Dailin is tall for an elf and on the scrawny side. Her features are well-hidden behind a skull mask, save for her long dark hair. She typically dresses in grayish-green robes, and wears minimal frippery. On her belt hangs an ebony-handled sickle, along with a sling and several herb potions. Her hawk familiar accompanies her, though if she feels combat is an issue she urges him to hide himself.
---
Personality
Cranky, sarcastic, always right (or at least unwilling to admit she is wrong), and loyal.
---
Journal
---
Art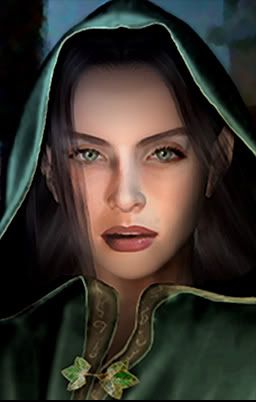 A rare view of Dailin without her mask.
---
Gear
Masterwork Quarterstaff
Leather armor
Potions of cure light x6
Oil of taggit x 2
Id moss x 1
Crystal of life drinking, least
Explorer's Outfit
Backpack
Spell Component Pouch
Potion of lesser restoration
Alchemist Fire x 3
Bug amulet
wand of detect magic 9 charges
Herbs
Soap
Journal full of maps, sketches of people and things you've encountered, and various notes. And several cookie recipes.
150pp
456gp
2sp
4cp
page revision: 8, last edited: 02 Mar 2008 23:58